2016 / Jul / 01
What Is Happening In Burgos, Spain?
We returned to Spain in late May, and things have been great. We are doing a weekly Sunday service, a weekly prayer meeting, and spending extra time with our people. It is great to see them growing in knowledge and honor for the Word of God. In the beginning, most of what we did was very new, so singing during praise and worship, confessing the Word, and asking lots of questions are real signs of growth. The Bible is living and it is wonderful to see it come to life in human hearts!
Testimony: The daughter of one our members got into a bad relationship. We prayed for her at church that the Lord would send someone (a laborer) to give her guidance. Within a week, her boss talked to her about the relationship, and she broke it off.
What Is Happening Elsewhere In Spain?
We have been doing an online service and some Bible training for a couple in another city in Spain since the end of January. They are really running with the Word!
Testimonies:
Their daughter accepted the Lord during one of our teaching sessions. Praise God!
The wife prayed for her husband, and the Lord healed him from the flu.
She has believed God and seen Him provide extra finances through increased hours at work.
The husband of their friend could not find any steady work, and it was becoming a crisis (the unemployment rate is still over 20% here). She asked what they should do. One student told her to start confessing Philippians 4:19 (But my God shall supply all your need according to His riches in glory by Christ Jesus) "all the time." Her husband got a job right away and still has it months later.
This husband saw how God had provided his job and wanted to move into Madrid (where apartments are expensive) so that he didn't have to commute. He began to speak out Philippians 4:19 and that God would provide them affordable housing in Madrid before they left on vacation in June. Sure enough, just before leaving, they found a great place at a great price!
This couple and their son accepted Jesus as Lord!!! (There is no better reason to teach that God provides. People see how good He is and want to serve Him!)
They have invited a Muslim to participate in the teaching sessions. She is asking a lot of questions. When this Muslim lady's son took a trip, he asked her if he could bring the book 'God's Medicine' by Rev. Kenneth E. Hagin along to read on the bus, and she allowed it! Glory to God!
Thank you so much for your prayers and generous giving for all of the work that we do. While it can be difficult to measure, statistic show that less than one out of 100 people in Spain have a relationship with God through Jesus Christ. There is a lot of hopelessness, and people need to know that Jesus is alive and God's word works (if we put it into practice.) When Jesus saw all the hurting people around Him, He said, "the harvest is plentiful, but the laborers are few; therefore pray earnestly to the Lord of the harvest to send out laborers into the harvest." (Matthew 9:37-38.) Please join with us in prayer and faith for many Christians and ministers to be sent out into the mission field. We must get in position to reach and teach all the people who need God's love. We will cooperate with God's moving and be right in the middle of all he has for us in this hour!
Our Trip To The USA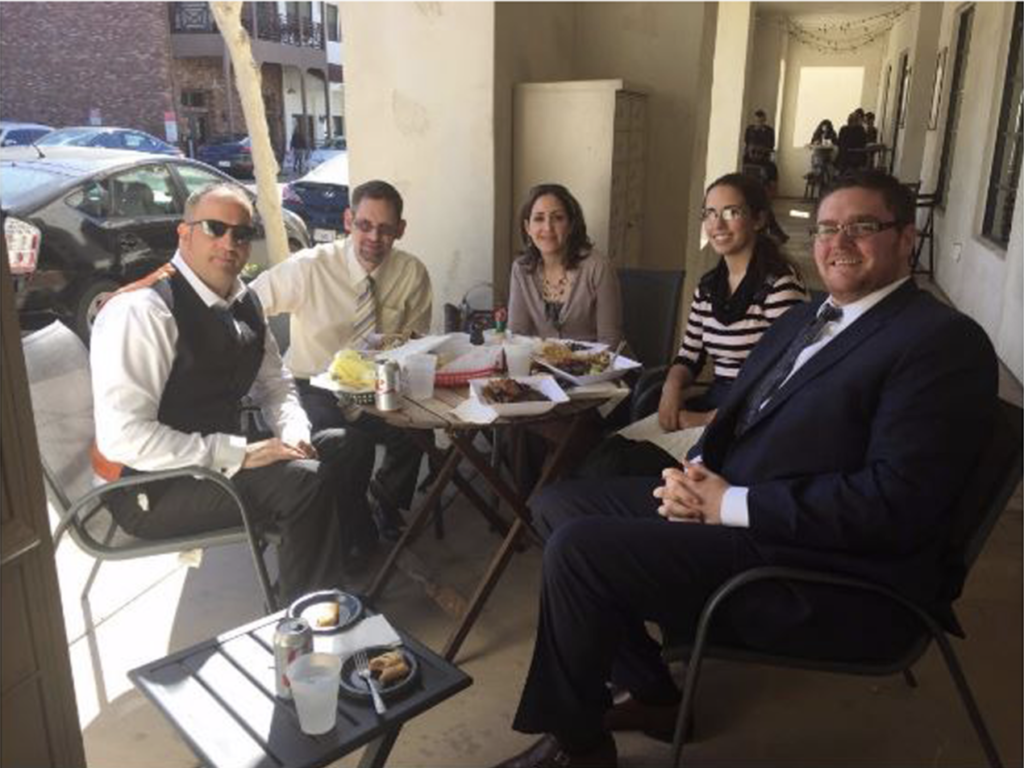 It was probably our fullest schedule ever. We traveled extensively around the country ministering in churches, meeting with ministers, and attending a conference.
Testimonies:
I believe the greatest thing we do in the USA is serve, bless, and minister to the pastors. We never to teach the uncompromising Word of God and encourage everyone to contend for all that God has at this time. One pastor was clearly touched by our insistence that we do and see all that is in the Bible. Others wanted to share our message online or encouraged us to make CDs available so that more could hear the teachings.
Without knowing why, the Lord dealt with us to attend a certain church service in another state. That day, the church had a missions focused and share the vision of some dear missionary friends who are being sent out into the field. It was such a blessing to be there!
At one service we gave a testimony before the offering. Afterwards we were told that it was the biggest offering that ever received. (It wasn't for us.) Praise God!
A Thought About Elections
Praise God, we had a good election in Spain on June 26. The communist had been on the rise here for the last year. The polls indicated that they would come in second in the selection and, perhaps, do you able to run the country with the help of the other left-wing party. Our church and people prayed and exercise our authority and prayed (alone with others, certainly) according to 1 Timothy 2, asking the Lord to give us wise leaders and wise voters. When the results came in, 1 million fewer voters had voted for the communist thing in the last election. They did not gain any seats in the parliament and continue to be the third largest party here. The leaders were dumbfounded. Thanks be unto God for helping us!
The ONLY hope for America's government is for the Church of the Lord Jesus to take her authority and steadfastly and continually pray for our leaders and our voters. How long should we pray? We must continue until we see our country and our leaders return to God and godly principles. May the USA fulfill God's plan!