Paris, France

Almost everyone is familiar with Paris, France, right? It is one of the top tourist destinations in the world, full of iconic monuments, historic art, stunning architecture, and some of the best food in the world. It is so rich in the natural world, but so poor spiritually.
Statistics indicate that around 1 in 100 people are born again. Once, on a visit to Paris with a dear friend of mine who is a Pastor, we went up the Eiffel Tower. I had never gone up it before, but he wanted to visit it at night. From the top of the tower, you can see all of Paris. With more than 12 million people in the metropolitan area, the landscape is just filled with lights. I turned to my friend and told him that one in 100 of those lights represent someone who is going to heaven. What an illustration for why we must go to Paris.
When we first started visiting, it seemed so dark and cold spiritually. We arrived in Paris on our second trip just 3 days after the major terrorist attacks of November 2015. There was so much fear, and people were surprised to see Americans. We encouraged people when we could and even got to share the gospel with an Iranian.
Our greatest opportunities in Paris, up until this point, have come with people on the streets and in parks. In more recent trips we are seeing more openness to the gospel. We have handed out tracts and Hagin books as the Lord has led. People have been open and touched, one even smiling and saying, "You are a Christian, you are a Christian!"
One evening while walking by a small park in the 13th arrondissement of Paris, we saw a couple of guys playing an unfamiliar game. (It looked like a cross between lawn darts and bowling.) We struck up a conversation, and pretty soon we were playing along. People joined and left the game over the next couple of hours. At one point we were alone with a gentleman who started to share his mistakes and failures with us. He had a daughter that he had lost to social services. Having had a difficult childhood, he so wanted to get her back and be a good father to her. We pointed him to God as his help and prayed with him. It was a very precious time that we believe made an eternal impact!
Let's do everything we can to make sure that all of the people in Paris, no matter their race or station, get reached with the gospel!
Population of about 2.2 million people (12.6 million metro area).
Eiffel Tower was only supposed to be there temporarily.
Is home to the Louvre, the world's largest Museum.
Also home to Notre-Dame, the most visited monument in Paris, currently under restoration after the infamous fire of April 2019 .
There is only one stop sign in the entire city. Everyone knows the rule that right has "right of way."
Used to be a Roman city called "Lutetia."
Was the largest Catholic city in the world during the beginning of the twentieth century.
About 60% label themselves as Roman Catholics, 7% as Muslim, 4% Protestant, 2% Jewish, and 25% non-religious.
Avignon, France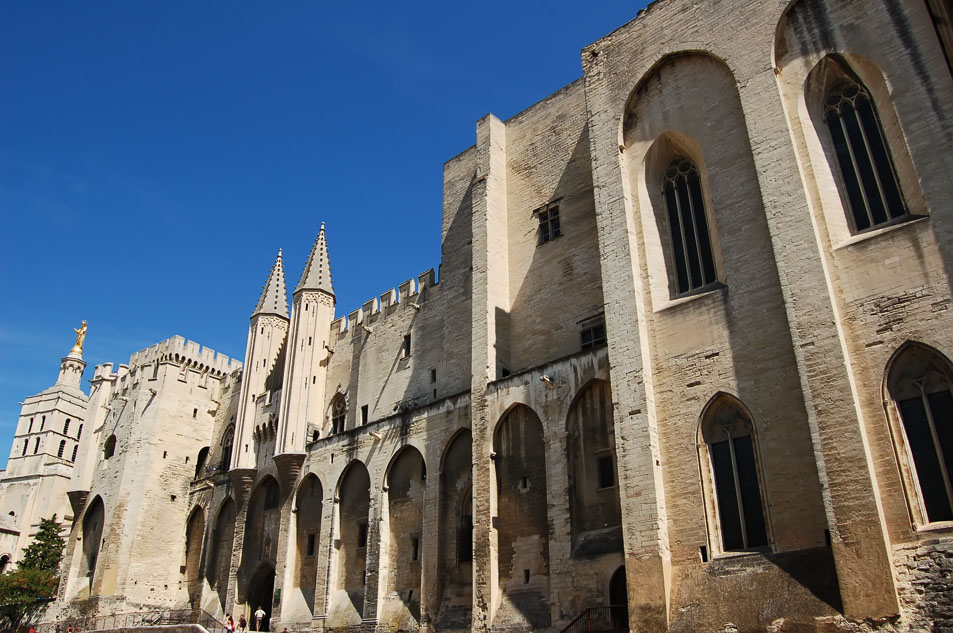 "Devil, if you don't start nothing, there won't be nothing!"
Avignon, France came to be on this list in a very unique way. We never planned on doing any outreach or ministry here. One summer day, we were taking the train back to Spain from Grindelwald, Switzerland when we decided to spend the night in Avignon and continue home the next day.
When I shut off the light in the hotel, I was aware of a large evil presence at the foot of the bed. This doesn't happen often, and when it does, we know our authority in Christ! I rebuked it in Jesus' Name and went to sleep. However, when I woke up in the morning, my wife told me that she had had a difficult time. That thing dared to bother her during the night! I told her my experience and sympathized with her for her trial. We left Avignon, and I didn't think any more of it.
A short time later, the Lord dealt with me to go back and prepare to do outreaches in Avignon. I understood that if the devil is going to try to push us from an area, it is exactly in that area that we will push back. He is leaving, not us and surely not Jesus!
Avignon is in the far west of the region of Provence, France, known for its famous fields of lavender. We were interested to discover that the Catholic church had its headquarters (and the Popes their home) in Avignon for much of the 14th century. The imposing Papal Palace from that time period is still a popular tourist attraction.
Avignon is beautiful, with very impressive Medieval walls. However it seems like a place where the people are very empty and hopeless. We have connected with a couple of young ladies who run a cafe in one of the plazas and are trusting God to show us how to be a blessing to them.
Avignon will be won!
Population of about 92,000 people.
Located on the Rhone River.
Origin of the city started around 539 B.C.
There were seven popes that lived in Avignon, called the Avignon Papacy. This is when the popes of the Roman Catholic Churches were residing there instead of Rome.
Hence the main religion is Roman Catholic.